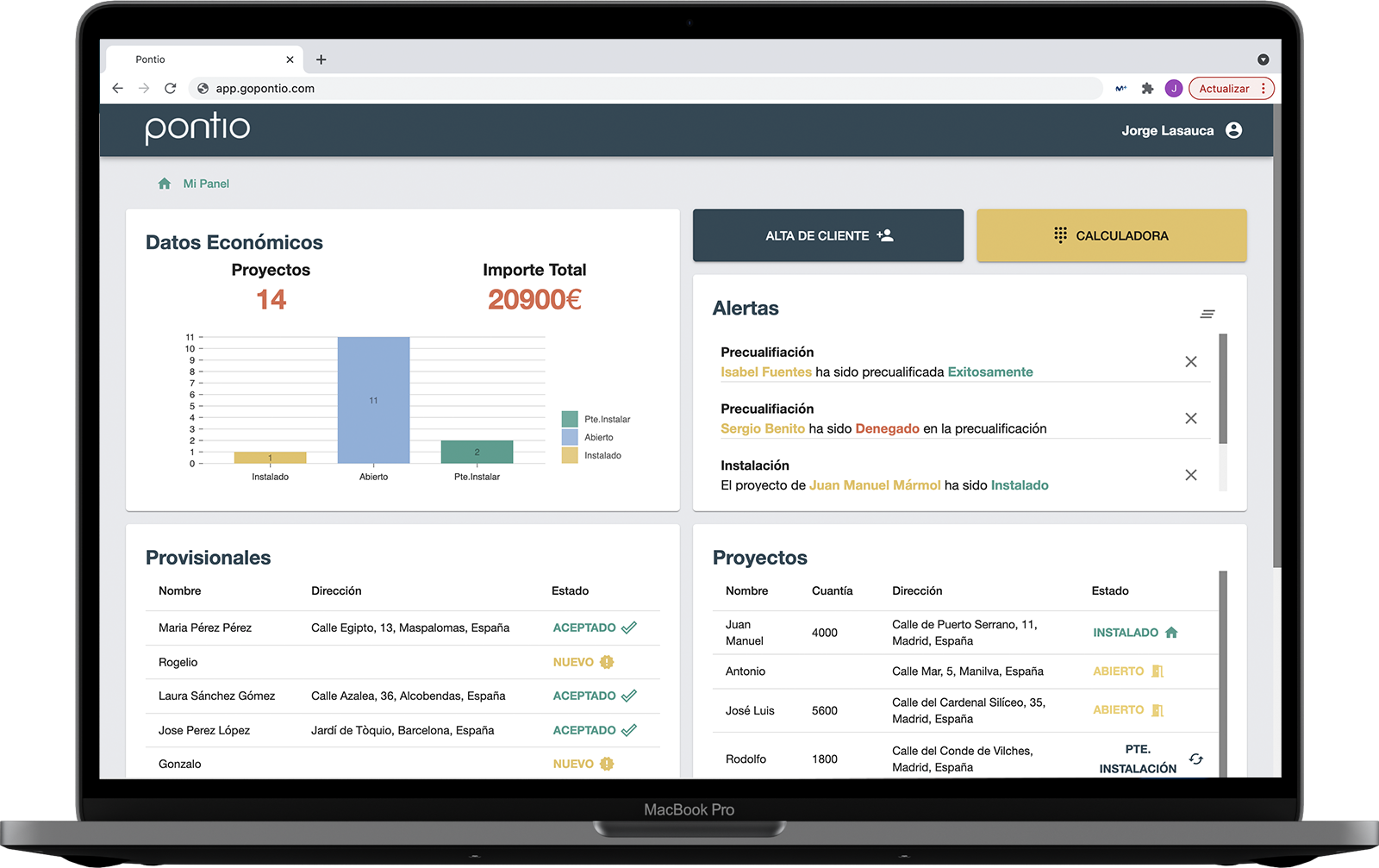 We have the ideal solution to increase your sales
Eliminate any sort of friction in the process of financing your clients, with no need of using your own capital or waiting for days the answer of the bank.
Expand your market with flexible payment options
Pre-approve your clients and instantly offer them Point-of-Sale financing.
Grow your business and increase conversion rates.
Instant pre-approval, 100% online
Flexible financing and payment options
10/10 customer experience
No paperwork, everything online
Do you want to be part of the change?
Flexible payment options
Offer your clients flexible financing options.
Increase your sales and your average ticket size whilst improving the relationship with your clients.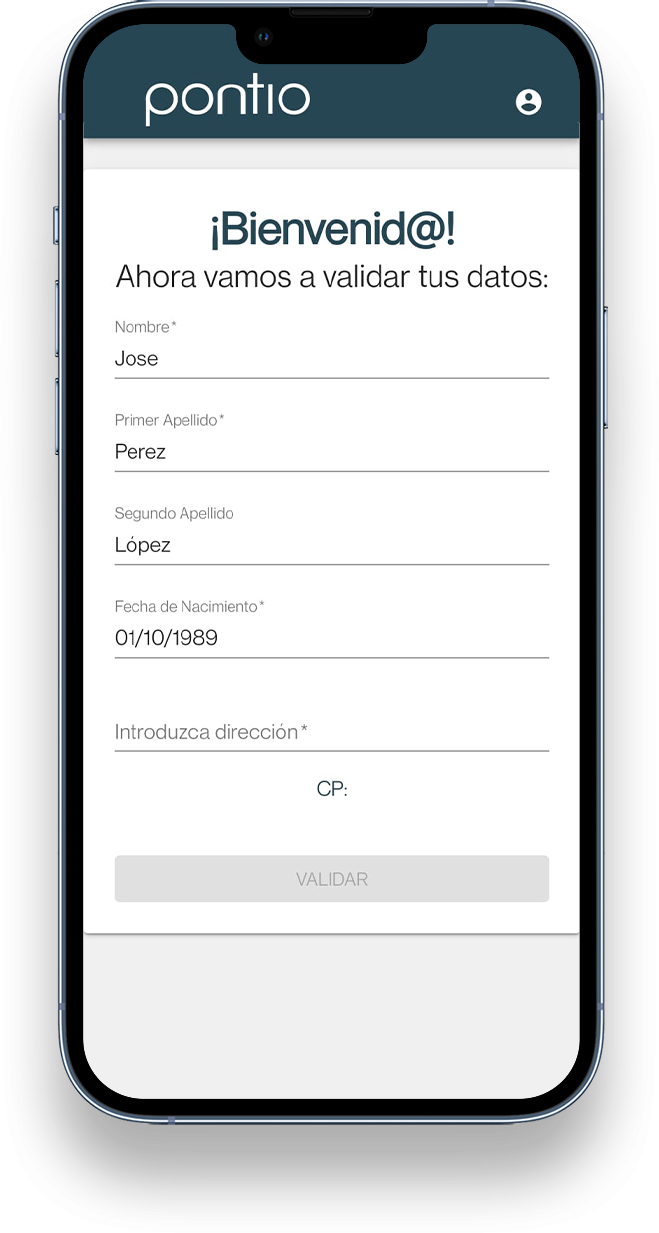 Grow your business and close more deals
No risk
Offer flexible financing options and grow your business with Pontio.
For residential customers…
Customized payment solutions at the point of sale
Offer your customers the financing option that best suits their needs from 24 to 240 months. No fees, no fine print, and a frictionless digital experience.
Long-term financing: Up to 20 years
Our long-term financing product makes a difference compared to traditional banking. Thus, your client will save money from the 1st day, since they pay a lower fee than the savings that the installation entails.
For industrial customers…
No initial investment required: Renting and PPA
Our business module allows you to offer renting to your industrial clients. This translates into diminishing their concerns about any upfront cost while benefiting from the tax advantages that this payment method entails. You pay a fixed monthly instalment, that includes both insurance and installation maintenance, and you are good to go! In addition, for installations of >100kW, we will structure the best Power Purchase Agreement.
Our platform and services are free of charge for installers. All onboarding, training and support processes are carried out by us. You only have to worry about what is important, selling projects!
Financing will increase your conversion rate
Offering financing to your potential customers from day 1 will facilitate their purchase decision and will make you stand out from your competitors. This way you will never lose a customer again.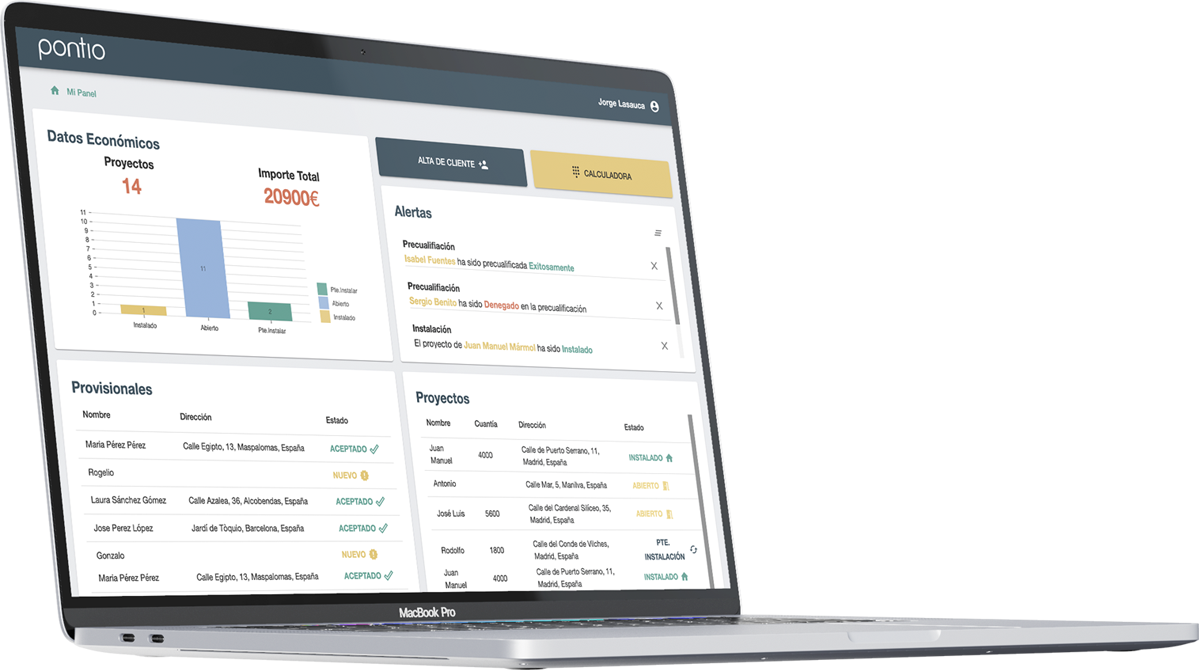 Did you know financing is one of the key drivers in buying a product?
Giving buyers the capacity and flexibility to fraction their payments facilitates their decision and improves their overall buying experience.
With Pontio you allow your customers to pay how they want and when they want. Together we will create a much more sustainable planet.
Remember, we are here to boost your business!
HOW TO SELL LIKE THE BIG PLAYERS
Long-term financing is differential in your value proposition
Join our network, free of charge, and start exploiting our platform to offer added value to your residential and industrial customers.